Chiropractic Care
Discovering Your Greatest Potential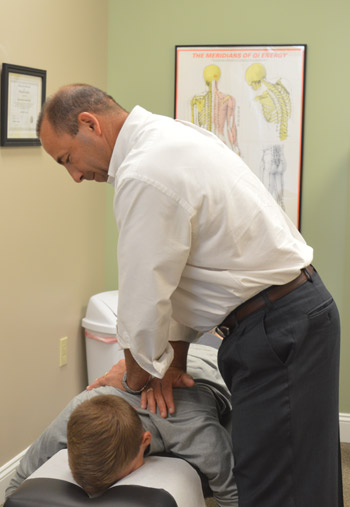 Most people associate chiropractic care with taking care of the spine. What few realize, however, is that Dr. Kuchmaner focuses on positively affecting your nervous system. Virtually every nerve in the body branches off from your spinal cord, and your spine protects this vital structure. Every bone in the spine, called vertebrae, should be able to move in multiple directions.
From an accident or simply life's cumulative stresses, your vertebrae lose their full function. The impulses from your nerves, then, are hindered and can't be sent to the appropriate part of your body. You won't be able to heal, function or reach your highest potential until this interference in the nervous system is resolved.
From helping infants to 100-year-olds, we've treated all ages with safe, comfortable techniques that restore the health of your spine and nervous system. The benefits of chiropractic care that you may experience cover a wide range, from proper healing, better sleep, improved energy levels and an overall greater function. When your nervous system is free from interference, your body can operate as it should.
Making Precise Corrections
Once we've identified your problem through a comprehensive examination process, we'll put a treatment plan together to correct your problem and get you functioning at the highest possible level. Dr. Kuchmaner, over his many years in practice, has identified two particularly effective methods for treating a variety of conditions:
Prone-specific technique. You'll lie comfortably on your stomach on an adjusting table. Using his hands, Dr. Kuchmaner scans your spine to locate restrictions in your vertebrae. Then, gentle pressure is used to restore normal motion.
Diversified. Similar to the prone-specific technique, this method of adjustment is also hands-on. We may use different positions and have you lie on your back, stomach, side or in a sitting position.
Our techniques can be modified to suit you. If you prefer to be adjusted in a certain way just let us know and we'll be happy to accommodate you.
Additional Healing Solutions
Depending on your particular situation, Dr. Kuchmaner will discuss utilizing our other therapies to help speed your healing:
Intersegmental traction
Meridian Therapy (Needleless Acupuncture)
Stretching/Strengthening Exercises
Meridian therapy is particularly beneficial for all ages. Specific points on the body are stimulated without the use of needles to give you the benefits of acupuncture noninvasively. By stimulating these points, Meridian Therapy restores the proper energy flow within the body. There will be no puncturing of the skin by use of needles in this office.
CONTACT US »

Same-day appointments are available, and walk-ins are welcome to stop by. Contact us today to find out what we may be able to do for you!

Chiropractic Care Steele Creek | (704) 588-3433